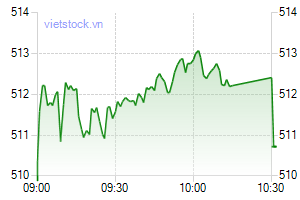 Movement of the VN-Index on June 16. (Photo: Vietstock.vn)

Strong revival of global markets fueled Vietnam's stock markets on June 16, helping the two major indices finish in green.
Vietnam's benchmark VN-Index, a measure of 236 companies and four mutual funds listed on the Ho Chi Minh Stock Exchange, wrapped at 510.72 points, gaining 2.71 points, or 0.53 percent.
Of the index, 154 stocks rose, 44 fell, while 42 remained unchanged.
Liquidity on the city bourse significantly improved as more than 51 million shares changed hands, worth VND1.54 trillion.
Transport Engineering Construction & Business Investment Stock Company 584 (NTB), which saw more than 3 million shares being traded today, was the most active share by volume. The company closed up 4.85 percent to VND32,400.
The Hanoi-based Ocean Group Joint Stock Company (OGC), which had topped the list for three previous consecutive sessions, dropped to the second rank with 2.17 million shares changing hands.
Vietnam Electricity Construction Joint Stock Corporation (VNE), located in the central city of Danang, came in third with 1.53 million shares.
Viet Nam – Italy Steel Joint Stock Company (VIS) rose by the daily maximum allowed limit of 5 percent to VND63,000 from VND60,000 yesterday.
South Logistics Joint Stock Company (STG) and bronze cable producer Viet - Han Corporation (VHG) both climbed up 4.97 percent to VND40,100 and VND33,800 respectively.
Losers on southern market included Construction Joint Stock Company No 5 (SC5), ceramic producer Taicera Enterprise Company (TCR), and Idico Urban and House Development Joint Stock Company (UIC).
Hanoi's HNX-Index also performed well, gaining 3.18 points, or 1.98 points, to close at 163.63. Trading volume exceeded by 60 percent of average level in last week to reach 44.6 million shares, worth VND1.39 trillion.
The UPCoM-Index lost 0.41 points, or 0.9 percent, to 45.22 points as of 11:20 am local time. A total of 66,603 shares traded at VND1 billion.
Globally, Dow Jones Industrial Average rose 213.88 points, or 2.1 percent, to 10,404.77. S&P 500 index jumped 2.35 percent, or 25.6 points, to 1,115.23. Nasdaq advanced 2.76 percent.
FTSE 100 index inched up 0.3 percent. Germany's DAX index rose 0.82 percent.
Japan's Nikkei 225 index climbed 1.81 percent. China's Shanghai Composite index added 0.29 percent.