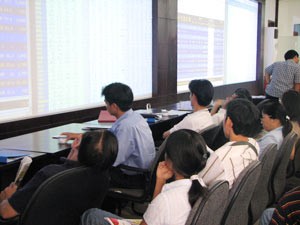 The stock buying demand increases again. (Photo: T.C)
On August 14, listed stocks rose strongly with 40 out of 48 stocks and fund certificates soaring to the ceiling prices. The VN-Index surged by 21.1 points (4.76%) and closed at 464.55 points. This is the highest surge of the Viet Nam stock average in August.
In fact, key stocks such as SAM, REE, KDC and VNM have recovered 10-20% compared that of late July when the market suffered from a severe pullback, somewhat easing investors' mood.
Even STB and GMD of Sacombank and Gemadept were bought in big volume although Gemadept is currently under investigation.
Moreover, the news of expanding room for foreign investors also helped to boost the demand.
On the Ha Noi bourse, the HASTC-Index followed the trend, increasing by 9.27 (5.16%) points to 188.72 points. Eight stocks with trading volume all surged, while the other 3 stocks saw no transaction.
However, some experienced investors on the ACBS trading floor are still skeptical about the market. In their opinion, the market once again changes too fast, and demands are unreasonably high at some stocks. They decide to trade cautiously and avoid harsh purcharse once the price jumps.
According to end-of-the-day statistics from the Ho Chi Minh City Securities Trading Center (HSTC), the total trading volume reached 2.38 million shares, or US$ 7.62 million. Foreign investors bought 295,060 shares or US$ 1.33 million and only sold 92,730 shares, worth US$ 345.35 thousand.
Related Articles:
Stock Exchange in Need of Foreign Investment
New Stock Lists as Market Jumps
Viet Nam Stocks Leave Low-times Behind