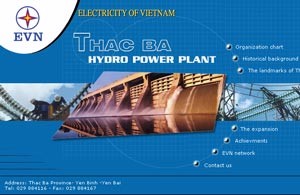 Thac Ba Hydro Power Company to go to the stock market. (Designed by T.C)
The Ha Noi Securities Trading Center (HASTC) has welcomed its 12th stock Tuesday of the Thac Ba Hydro Power Joint-stock Company (Thac Ba).
The Sai Gon Securities Incorporation (SSI), the Vietnam Securities Depository (VSD) and HASTC have taken measures to prepare the arrival of Thac Ba – parented by Electricity of Viet Nam (EVN) – opening opportunities for convenience and fair trading for all investors.
At Thac Ba's listing ceremony, Mr. Dang Phan Truong - EVN's head of equitization and securities - confirmed that equitization along with listing on the exchange is the best policy to bring about practical benefit to EVN, especially its subsidiaries.
Moving towards success, Thac Ba is the fourth subsidiary of EVN to register trading on HASTC after finishing its equitization. In the near future, there will be other subsidiaries of EVN to hit the bourse.
Thac Ba traded on HASTC's Tuesday trading session with an average price of VND26,900/share, the third most valuable stock price currently trading on HASTC. In its second trading session, Thac Ba shares saw a slight decrease of VND400 each.
After the listing of Vinh Son – Song Hinh Hydro Power Joint-stock Company, the Khanh Hoa Power Joint-stock Company, and the Pha Lai Thermal Power Joint-stock Company are all expected to follow suit to the exchange as they have all posted positive results with optimistic growth rates.  Their trademarks are also well-known, affording them the opportunity to raise additional funds to develop their brands to full potential.
With the listing volume of 63.5 million shares, Thac Ba lifted the total number of shares on Ha Noi bourse to 437.55 million shares, equivalent to US$ 273 million in par value.
Related Articles:
The Market Will Be Livelier
EVN to Issue VND600 Billion in Bonds
Two More Bond-Auction Members on Ha Noi List
Ha Noi Bourse Prepares to Welcome Two New Listings
Viet Nam Securities Depository Opens
Vinh Son – Song Hinh Hydro Power Valued Roughly at VND 4,400 Billion
Pha Lai - Biggest Company on the Stock Market