On Tuesday, the first company in automobile industry listed on Ho Chi Minh City Securities Trading Center. After a wide range of new industries attending the stock market such as cement, steel, tobacco, education, information technology, paint, pharmacy, HAX stocks of the Hang Xanh Motors Service Joint-stock Company (Haxaco) continue to receive high expectations from investors at the moment.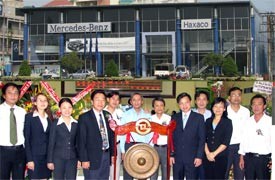 Haxaco's managers on the first day in the stock market (Photo: T.C)
In spite of listing only 1.62 million stocks, equivalent to a registered capital of VND16.25 million, Haxaco has some special strength.
As an equitized business unit under the Saigon Transportation Mechanical Corporation (Samco) in 1999, Haxaco has become the first Mercedes-Benz distributor and had the top quality repairing service in Viet Nam since August 2004.
Besides, Haxaco also became agent of the Hoa Binh Automobile Manufacturing Joint Venture Enterprise and KIA distributor of the Truong Hai Automobile Company.
Haxaco is expected to gain a turnover of over VND263.5 billion in 2006, profit before tax of VND2.5 billion, dividend rate at 10% and to increase 50% in the coming years.
With its strength and performance, in addition to the 30.45% of stocks hold by Samco, Haxaco also attracts great interest from foreign investing organizations, for example VOF Investment Ltd. Fund of VinaCapital Group, who owns over 12.6% of its stocks.
While Viet Nam financial market is becoming more attractive, stocks of automobile companies are scarce products which have the highest expectations in the market.
The listing of HAX stock is regarded as the first step for Vietnamese automobile companies to access the capital mobilizing channel of the stock market as well as the progress to the common playground in the integration period.
HAX closed at VND35,000 per share in its first-day trading.
Related Articles:
First Try for New Investors
SSI Off to a Flying Start on Ha Noi Bourse
Viet Nam IT Leader Makes Strong Debut on Stock Exchange
New Remarkable Stocks