The domestic stock market opened the year with a rush that lasted the most of the first quarter and left the VN-Index at a record high of 1,170.67 points on March 12. But it promptly saw that record lost in a descending trend lasted for the rest of 2007.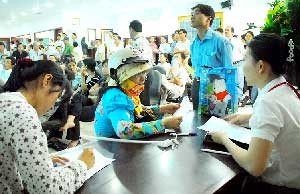 Domestic investors worry about the downtrend of the stock market
Stock analysts blamed the turn-and-slide on investors who never fully appreciated the market's workings from its opening and even after Viet Nam joined the World Trade Organization in January this year. 
Uneducated dreams of quick, ongoing profits superheated the market in its early days, they say, pushing it higher than any value that could be justified by rational analyses.  
Though the nation's economy continued to race along at a pace topping world growth rates, albeit buffered by excess inflation this year, neither structural nor short-term prospects could be used to rationally justify the heights the southern bourse achieved in its brief lifespan leading up to Q1 2007.  
After Q1, a central bank directive limiting stock-mortgaged loans put a damper on demand for stocks and caused the initial downtrend in the market. 
Despite the benefits of preventing small domestic banks from risks, the directive garnered widespread criticism from stock market investors who thought "healthy" banks would only lose profit opportunities as the bourse lost investment capital.  
Worse, complain stock traders, the directive led investors to sell their stocks in bulk in the over-the-counter market, causing a general downtrend reflected in a dive in market valuation.
A secondary reason for the downtrend was the late initial public offerings (IPOs) of three major state-owned enterprises, Phu My Fertilizer and Chemicals (DPM), Bao Viet Finance-Insurance Group (BVC) and the PetroVietnam Finance Company (PVFC). 
 
The tardiness of their IPOs caused many investors to lose interest, resulting in lackluster initial sales and pricings, big enough to put a damper on the whole domestic stock market itself. 
 
Analysts now claim to be expecting a surge in the market next year with the upcoming IPOs of several more big SOEs, including Saigon Beer, Alcohol and Beverages Corporation (Sabeco), Hanoi Beer, Alcohol and Beverages Corporation (Habeco) and the Viet Nam Bank for Agriculture and Rural Development (Agribank). 
 
Related articles: 
VN-Index Back Below 920 Points 
VN-Index Slides and Slides and…