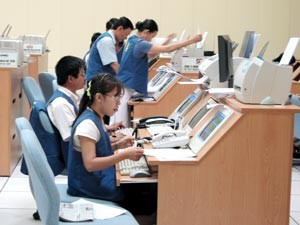 HSTC will welcome three new companies to list in the first haft of August. (Photo: T.C)
The Ho Chi Minh Securities Trading Center (HSTC) announced the listings of 3 new stocks in the middle of August on this exchange.
The COM share of Petroleum Materials Joint-stock Company (Comeco) is going to join the bourse next Monday (August 7) with the 3.4 million shares listed corresponding to the company's chartered capital of VND 34 billion.
Comeco is the third petroleum company to float after PMS and SFC but it is the biggest of the three because of its dominant market share in Southern provinces.
The company's main businesses are petrol distribution, investment in infrastructure for receiving, storing and distributing petroleum products, other warehousing and petroleum transportation services, and office leasing.
One day later, August 8, the Thanh Thanh Glazed Tile Joint-stock Company will also float 4 million of its shares (trading code: TTC) on HSTC.
With the chartered capital of VND 40 billion, the trading of TTC shares promises to be livelier than the other stocks of the same industry, CYC share of the Chang Yih Ceramics Joint-stock Company. Chang Yih, whose chartered capital reached VND 100 billion, is bigger in size but only lists 1.99 million shares.
One week later, on August 15, maritime industry will have another representative on the listed market, the Saigon Maritime Joint-stock Company.
Being rather small in size (VND 14 billion in chartered capital), 1.4 million shares SHC of this company might not have a big influence on the market, but they are likely to create surprises and attract international investors like shares of other listed maritime and shipping companies such as GMD of Gemadept, MHC of Marina Ha Noi, and VFC of Vinafco.
Related Articles:
Ceramics Company Joins the Stock Market
Full Power – The Third FDI Enterprise to List
Vinafco – The Fifth Transport Enterprise to Go Public
New Investment Opportunities with More Listings and Share Sales