Two listed firms' requests of withdrawing from the stock market – the first ever in Vietnam - have triggered fears of financial experts that without tight regulations by the market watchdog, the request would cause heavy losses to shareholders.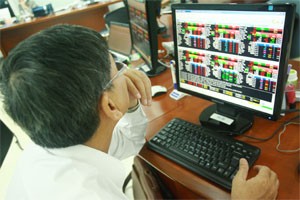 Financial experts ask the market watchdog to set up more explicit and tight regulations on listing and withdrawing on the stock exchange (Photo:Minh Tri)
Two subsidiaries of the Saigon Invest Group, including telecommunication firm Saigontel and Saigon-Quy Nhon Mining Corp, announced at the annual general meeting this year that it would withdraw from the stock exchange due to "recent difficulties on the market".
"The economy of Vietnam and the world have been volatile unexpectedly. Local banks are forbidden from provide loans on stock and property investments, while many share and business bonds issues via the stock market had no buyers. Those facts showed the stock market was not good place for businesses any more," said Dang Thanh Tam, chairman of the Saigon Invest Group.
"The market value of the Saigontel is cheaper even than a tiny land of the firm. Both the board of directors and shareholders of the company cannot find any positive in the market. Therefore staying listed will affect the firm's status and make our partners make bad assessment of us."
Tam also added that Saigontel's withdrawal was temporary and would enable the firm to restructure its operation.
Nguyen Hoang Hai, general secretary of the Vietnam Association of Financial Investors (VAFI), said listed firms' withdrawal from the market was normal if they could do what they planned, such as buying back shares, restructuring operation and avoiding being acquired.
"However, detail regulations on withdrawals that are submitted by listed firms themselves are required. I also propose to set up regulations allowing small shareholders to vote for the withdrawal at the annual general meeting," Hai told Dau Tu Tai Chinh Newspaper.
Nguyen Dinh Tho, vice principle of Foreign Trade University, noticed that foreign businesses often focus strongly on company reputation building. Many Vietnamese companies, in contrast, are willing to achieve their targets at any cost, Tho said.
"Most small shareholders of listed firms remain unprofessional and do not unite to improve their status," Tho added.
Financial experts admitted the bearish market eased advantages of listed firms, which still have to pay listing expenses. However, they said it was the time to screen the listed companies and to upgrade the required conditions for listing on the stock exchange.
Nguyen Bang Tam, vice chairman of the Club of Listed Firms, suggested the State Securities Commission should release more explicit and tighter regulations on listing and withdrawing from the stock exchange.
For example, firms withdrawing from the bourse have to wait for a required number of years before being allowed to rejoin the market, Tam said.
An official from the State Securities Commission, who wants to be unnamed, said the market watchdog will rely on local laws and international legal practices to make decision on the withdrawing requests.