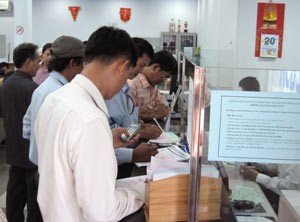 It is hard for investors to choose buying or selling. (Photo: T.C)
With the market back in the black after trading dipped to the red zone last week, the exchange week was full of turnarounds caused by erratic supply and demand.
Out of 5 trading sessions in last week, the VN-Index soared in three and dropped in the other two. Around 3.34 million shares and fund certificates changed hands per session on average, or VND 160 billion (nearly US$10 million).
Buyers' demand, in a tug-of-war with sellers, was somewhat stronger and helped the VN-Index rise by 38.86 points (8.76%). Despite hikes from oil and interest rates, investors rushed to buy stocks that looked attractive after the recent severe drop.
Outside the trading floor, there was also good news for the market. Many listed companies posted positive first half results and the news that Viet Nam no longer has a limitation on foreign investor's possession of stocks (except in some special industries such as telecom and banking) caught the attention of many large foreign investment organizations.
Many foreign brokerage firms have begun to set up shop in Viet Nam, a good sign for a lively Viet Nam's stock market next year.
The market is moving into a new period with great growth and trading volume potentials to attract more of foreign investment and from there the Viet Nam's stock market has another motivation to grow even faster in the new era.
Related Articles:
Viet Nam Exchange Opportunity Knocks for American Investors
A Trap for Unwary Bulls?
Many Banks Open Securities Companies
Stocks Surged As Demand Booming
Stock Exchange in Need of Foreign Investment