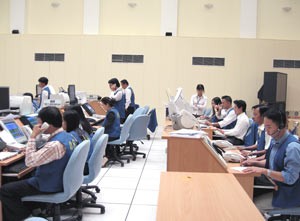 The auction in Viet Nam's securities exchange. (Photo: T.C)
The Ha Noi Securities Trading Center (HASTC) has just approved membership to two banks' auction bonds: the Deutsche Bank AG – Ho Chi Minh City Branch and the Southeast Asia Commercial Joint-stock Bank (SeABank).
Effective Tuesday, the move raises the number of bond-auction members at the center to 34.
Bond auction is one of the main activities in HASTC which raises funds for the country's important projects as well as helps bond issuers and customers to diversify their investment portfolios.
Bond auction has gradually attracted respectable banks, securities firms, financial companies and insurance companies.
Since the beginning of the year, bond auctions at the center have mobilized more than VND1,880 billion (about US$117.5 million).
Related Articles:
Ha Noi Bourse Prepares to Welcome Two New Listings
Additional Issuance via Auction Reaches an Impasse
EVN to Issue VND-900-Billion Worth of Bonds