Monday, the United States Deputy Chief of Mission Jonathan M. Aloisi, with Mr. Vu Bang, Chairman of Viet Nam's State Securities Commission (SSC), opened a 5-day Compliance, Inspections, Examinations and Surveillance Training Program for Vietnamese officials in Ha Noi.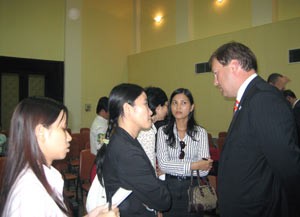 Foreign experts always want to discuss their experiences with Vietnamese counterparts. (Photo: T.C)
The training, which is sponsored by the US Agency for International Development (USAID) and the US Securities and Exchange Commission, will cover US and international best practices in enforcement and oversight of capital markets.
The training will be conducted by the US Securities and Exchange Commission experts with 45 Vietnamese participants, including senior executives and officials from securities commissions, stock exchanges, and the National Assembly and State Inspectorate.
"Both the US and Viet Nam agree that creating a vibrant, growing capital market that can attract both local and international funding is an essential building block in Viet Nam's strategic development plan," said Mr. Aloisi in his opening remarks.
"The US wants Viet Nam to succeed, and I am proud that experts from the US are able to be here today to discuss our experiences with their Vietnamese counterparts."
The training is part of a technical assistance program funded by USAID to support securities market development in Viet Nam by building capacity for SSC staff and securities practitioners.
A Memorandum of Understanding was signed last year in the US by representatives of the SSC and USAID to formalize this technical assistance program for the coming 3 to 5 years.
Related Articles:
Vinamilk, FPT Eye Foreign Bourse
Viet Nam Stock Exchange and Small Investors
Prague Stock Exchange Supports Ho Chi Minh City Bourse