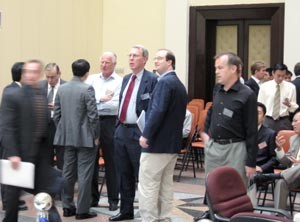 Foreign investors learn about Vietnamese stock market at Ho Chi Minh City Securities Trading Center. (Photo: T.C)
While stock price is swaying strongly as VN-Index fluctuates between 530 – 550 points, foreign investors still pursue their buying trend with increased trading volume.
Foreign investors are restructuring their equity investment portfolios in May.
Viet Nam Dragon Fund Limited (VDF) bought a large stake of Binh Thanh Import-Export, Production and Trade Joint-Stock Company (Gilimex – GIL) and Trans-Forwarding And Warehousing Corporation (Transimex –TMS).
The selling side of the deals were Wareham Group Limited and Viet Nam Enterprise Investment Limited (VEIL).
VDF and VEIL are run by British fund management firm Dragon Capital.
VDF bought 423,150 TMS shares (equivalent VND 24.54 billion) and 698.130 GIL shares (equivalent VND 35.9 billion). With the quantity, VDF hold 9.86% stake of Transimex and even 15.34% stake of Gilimex, an influential rate to the companies.
Gilimex has the chartered capital of VND 45.5 billion, while that of Transimex is VND 42.9 billion.
There is still unknown about the purpose behind VDF buying.
+ May 15th 2006, Wareham sold up all of its 423,150 TMS shares. Through the deal, VDF has raised its stake in Transimex to 9.86%.
+ On the same day, VEIL sold all of its 249,900 GIL to VDF, accounting for 5.49% of GIL listing share.
+ On the next day, VDF purchased an additional 144,000 GIL shares through negotiation trading.
+ On May 29, VDF bought 304,230 GIL shares from Wareham to raise its total GIL stocks hold to 698,130 shares, accounting for 15.34% of GIL.
Related Articles:
Sacombank Prepares To List
CII's Debut Leads the Market in Trading Volume
The Viet Nam's Stock Market in 6 Early Trading Sessions of May: Stocks Down, Foreign Investors Continue Buying In
New Wave of Foreign Indirect Investment Flows into Viet Nam