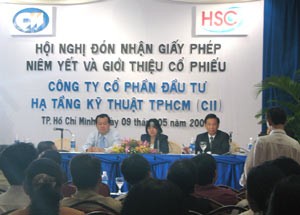 CII attracts foreign investors with its large chartered capital and long-term investment projects. (Photo: T.C)
According to the latest news from the Ho Chi Minh City Securities Trading Center (HSTC), the Viet Nam Dragon Fund Limited (VDF) will raise its possession proportion in the Ho Chi Minh City Infrastructure Investment Company (CII) to 5%.
The fund will carry on its plan of buying more shares to reach 1.5 million CII shares owned by October 31, said Dominic Scriven, Member of the CII's Board of Directors and Managing Director of VDF. The fund, as of July 27, held 587,270 CII shares.
After the news was announced this morning, CII shares saw few sellers. At closing, there were only 9,100 CII shares changing hands, much lower than the stock's average trading volume of 100 thousand shares per session in recent months. CII, therefore, reached the ceiling-price at VND 28,800 each with buying orders of 146 million shares unmatched.
The Ho Chi Minh City Infrastructure Investment Company has the chartered capital of VND 300 billion and specializes in infrastructure investment projects. CII has downed 50% from its debut price of VND 50,000/share, as it was somewhat overvalued, before partly recovered in recent days.
VDF is a fund managed by British Dragon Capital and this is the third big buying in by the fund, on the Viet Nam's stock market, after the buying of VND 60 billion worth of GIL stock of Gilimex and TMS stock of Transimex Sai Gon in Q2.
Related Articles:
Sacombank's Stock Introduced To The Public
CII's Debut Leads the Market in Trading Volume
Viet Nam Dragon Fund Buying in GIL and TMS
Related Link:
Dragon Capital