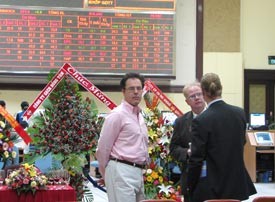 With the big listed companies as Sacombank, Vinamilk welcomed on bourse, Viet Nam's stock market is more attractive to foreign investors. (Photo: T.C)

Recently, foreign institutions, especially those from America, have seen Viet Nam's stock market as a promising destination although the market is still young and struggling in management.
Since heavy-hitting U.S. investment firm Merrill Lynch obtained its trading code in early August, many Wall Street financial companies have taken the leap to Ho Chi Minh City, the economic center of Viet Nam.
Citigroup had the trading code last year and is introducing investing opportunities in Viet Nam to foreign investors. JPMorgan is now preparing to enter this potential market.
Previously, there were only small investors that participated in Viet Nam's six-year-old stock exchange. As of August 15, the Ho Chi Minh City bourse had 48 companies and investment funds listed with the total market capitalization of US$ 2.8 billion and daily trading volumes reaching US$ 4 – 6 million.
The issuance of Viet Nam's government bonds on the New York stock exchange in October 2005 has attracted the attention of international investors to one of the fastest growing markets in the world.
After Merrill Lynch's report in February revealed the potential of Viet Nam's exchange, stock prices increased by 105% from late January to the end of April as domestic investors expected a large flow of foreign investment into Viet Nam.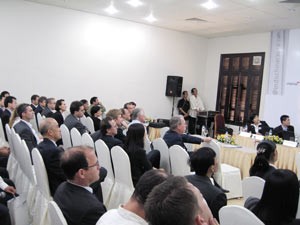 International investors participate in a  seminar on investment opportunity of Viet Nam's stock market. (Photo: T.C)
However, the market has lost 36% of its value since then as the foreign cash flow from abroad had not met the great expectations. Currently, the market has recovered, surging strongly in 2 latest weeks as there is news of expanding room for foreign investors.
According to Viet Nam's stock market regulation, every foreign investor must obtain a trading code before being allowed to exchange stock on the market. The trading code is used to monitor the stake of foreign investors in listed companies.
Merrill Lynch calls the trading code the "founding stone" of their franchise strategy in Asia. Viet Nam is one of the few emerging markets with great potential that has yet to be widely recognized, said Paul Masi, Merrill Lynch's head of equities in the Asia Pacific region.
However, the potential will take a long time to be realized. The equitization process of state-own enterprises including Vietcombank's, Mobifone's and Vinaphone's are still sluggish while the development of the listed market is slowed down by the "black market" OTC, where unlisted stocks are traded.
Related Articles:
Comments on Vietnamese stock market: A Trap for Unwary Bulls?
Stock Exchange in Need of Foreign Investment
Foreign Investment Funds Boost Demand of Stock Market
Merrill Lynch Enters the Viet Nam's Stock Market
Coalition, Enterprises Urge US Congress to approve PNTR for Viet Nam
Foreign Investors Still Limited to Buy 30% of Vietnamese JS Bank
Citigroup Provides Securities Services in VN