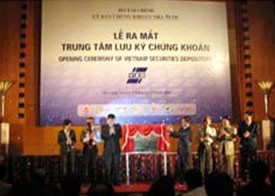 The opening of VSD marks a new step to standardize Viet Nam's stock market. (Photo: T.C)
Along with the recent development of the stock market, having a securities custody and clearing center – the Viet Nam Securities Depository (VSD) – independent of the securities market operator is one of the requirements to standardize securities trading services. Currently, Viet Nam just has VSD while the Viet Nam Stock Exchange is expected to be established next year.
According to Deputy Finance Minister Tran Xuan Ha, VSD will become a new financial institution to improve the stock market in registration, custody, clearing, payment of securities and providing supporting services in securities trading.
The forming of a securities depository center in a country aims to enhance the specialization, standardization of the securities transactions, strengthen the risk management capability of each different service, and synchronize the development of the market infrastructure of that country.
The G30 (the international monetary and economic consulting group) and the International Organization of Securities Commissions (IOSCO) also recommend nations to set up an independent securities depository center.
However, VSD is, in fact, the combination of the two depository units from the country's two bourses, the Ho Chi Minh City Securities Trading Center (HSTC) and the Ha Noi Securities Trading Center (HASTC). Therefore, an immediate goal is to maintain the continual and stable operation of the market.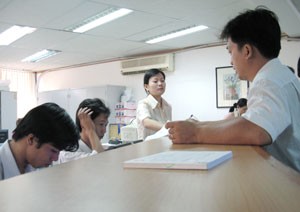 In future, investors can open trading accounts directly at VSD. (Photo: T.C)
Until now, over 23 institutions consisting of 20 depository members, two financial institutions and the central bank's trading agency have opened custody accounts at VSD. Besides, more than 1.1 billion shares of shareholding companies, over 570 million bonds (included stated-bond and corporate-bond) and 30 million fund certificates have been deposited at VSD.
As the listed volume of securities will grow rapidly from the end of 2006 to 2008, VSD will be modernized with its upgraded equipment in order to meet the need of technical post-trading process corresponding to the development of the market.
Moreover, VSD is heading to the one-level custody model, and focus on the stock depository of public companies. With the future one-level custody model, investors will be able to open trading accounts directly at VSD and easily to monitor transactions of their accounts.
In the future, VSD is expected to prepare necessary requirements to transform itself into a sole-member limited liability company after 2008, conforming to the Securities Law.
Besides, VSD will launch new supporting services for market operations, expand international cooperations of custody activities with other countries depository centers and become a safe and efficient securities trading channel between markets.
Related Articles:
Merrill Lynch Enters the Viet Nam's Stock Market
Laws On Securities, Lawyers and Legal Support Validated
Securities Law Due To Be Passed