According to an article on the CNN's financial news portal, CNNMoney, Viet Nam stock market has had stunning growth since the beginning of 2006.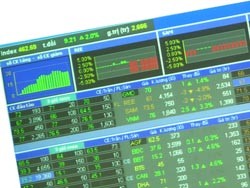 The VN-Index upped over 80% in 2006. (Photo: T.C)
From the last trading session in 2005 to the closing of April 14 trading session, the VN-Index has upped 60% from 307.5 points to 561.09 points. This is the second-fastest growth in the world this year, behind only Zimbabwe's.
From the initial market capitalization of US$144 million for 22 listed companies two years ago, the market has increased more than tenfold, to US$1.5 billion for 35 companies and 1 mutual fund today.
In fact, in the first 3 months of 2006, with the listing of Vietnam Dairy Products Joint-Stock Company (Vinamilk) and Taya Electric Wire and Cable Joint Stock Company (Taya Vietnam), the market capitalization has doubled.
According to the State Securities Committee (SSC), Ho Chi Minh City Securities Trading Center (VSE), as HCM City Infrastructure Investment Company (CII), Sai Gon Thuong Tin Joint-stock Commercial Bank (Sacombank) and many other enterprises are approved to list; the market cap will double again by the end of 2006.
This is the good performing for a six- year- old market, which started in July 2000. Because of its "newly-foundedness", investors can hope the market continue to grow as fast in the coming years.
The article also cited factors that fuel the stock boom, including the relative low price to earning (P/E) of Viet Nam's listed companies, at an average ratio of 12; the fast GDP's growing at 8.4% in 2005; the new regulation for foreign investors to hold up to 49% of public companies; and the effort of equitizing state-own enterprises.
Related Link:
Vietnam's Stock Market is Booming: CNN