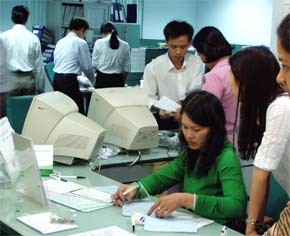 Investors place orders at Vietcombank Securities Company (Photo: Tuong Thuy)

Viet Nam's stock market has been open for seven years but it has not lived up to expectations as it continues to grow but has not yet matured.

Rapidly Growing Stock Market
Growing 88 percent annually, Viet Nam's stock market is currently thriving. The debuts of dozens of large companies, such as Vinamilk, Sacombank, and Vinh Son – Song Hinh earlier this year tripled the local stock market's growth rate.
So far the number of investors has been up to more than 60,000, double the total number counted at the end of last year and 20 times higher than the first year of the market's inception.
Those investors, together with surging prices early this year, have raised the total value of security transactions in the first six months up to more than US$2 billion, three times the growth to the same point last year.
As well, the average matched price in each trading session is up to around US$5 million.
Foreign-invested enterprises have gradually begun to put their trust in Viet Nam's stock market. Particularly, more than 20 percent of the total year-on-year increase in value came from more than 1,000 foreign investors.
So far, the total capitalized market value including bonds has made up more than 10 percents of gross domestic product (GDP), in line with projections of the 2010 local market development strategy 10. The total capitalized market value of stocks now reaches nearly 5 percent of GDP, 2 – 3 percent higher than the projected level of GDP in 2006.
Non-synchronous Mechanisms
Though the market has rapidly developed recently, the legal corridor, technical infrastructure and trader skill levels are not up to par. The Law on National Security was issued after the stock market was open for six years, and it came into effect one year later. Meanwhile the Business and Investment Laws became effective in the middle of this year. But this delay has caused a lack of legal support for the stock market's development.
Only Vinamilk reached its true potential in the first months of this year due to a shortage of goods that the company was in turn able to supply. However, when the hot demand cooled down, a variety of goods moving into the market caused superfluous supply.
Situations like this indicate that only large mega-companies are able to stay afloat when the market sinks, a situation that is in need of correction.
Mechanisms for transaction security have also not met the demand of investors yet. When the stock market hit its peak early this year, many investors complained that their orders got stuck were not input into the system due to the surging number of investors.

Despite the Ho Chi Minh City Securities Trading Center's (STC) extension of the trading floor paving the way for securities companies to increase the amount of input and phases in trading sessions, and despite the upgraded the trading system, the situation has not improvement. A modern trading system enabling customers to trade through internet is required now.
As the securities companies focus solely on receiving orders, they do not have time to offer their customers professional advice on trading stocks. Recently, securities companies, securities investment funds, and listed companies in cooperation with the STC, have held monthly online talks with investors without producing many results.

Lacking knowledge and experience, many local investors tend to buy company stocks even when they don't even know what company is or does, which causes a virtual increase in stock prices.