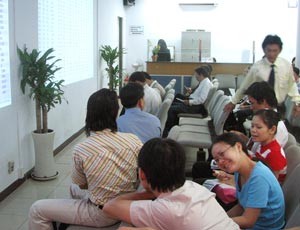 The smiles come back to investors. (Photo: T.C)
Stocks on Viet Nam's securities market resting below the 400 point mark surged dramatically on August 3 and 4 as the bullish market put investors in a good mood.
The market was soaring at closing on August 3 as 35 out of the 45 stocks reached ceiling-high prices while the trading session on August 4 saw 24 stocks surge to hit the ceiling as well, causing the VN-Index to jump 35.7 points (8.93%) and close at 435.5 points.
The stocks that have sold most strongly over the past two weeks – such as STB of Sacombank, VFMVF1 of VF1 fund and REE of ReeCorp – helped initiate the turnaround as unmatched buying volume rose to hundred millions of shares. The whole market's two-day trading volume reached 4 million shares, equivalent to VND 186 billion.
Though this high buying pulled stock prices was way up from their recent lows, statistics by the Ho Chi Minh City Securities Trading Center (HSTC) on August 4 showed that the difference between buying and selling fell to 1.94 million shares, decreasing 50% over the previous day.
Foreign investors transacted on 27 stocks, focusing their buying on DHA of Hoa An, BMP of BM Plasco, and VSH of Vinh Son – Song Hinh Power. These stocks accounted for VND 5 billion or 49% of foreign buying.
Foreign investors also sold many key stocks including STB, VNM, REE and GMD (57% of their selling).
Related Articles:
Three New Listings for HSTC
Viet Nam Dragon Fund Buys More of CII
Sacombank To Delay Its Issuance of 20 Million Shares
Vinh Son – Song Hinh Hydro Power Valued Roughly at VND 4,400 Billion
VF1 To Expand Chartered Capital To VND 500 Billion