Vietcombank closed bid at VND102,000 per share today, quite a bit lower than the predicted VND150,000. As a result, the newly listed stocks made significantly less impact on the VN-Index than expected, leave the market down 2.62 points to close at 921.75 this morning.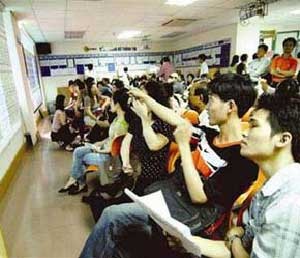 Investors still see a positive development in the increased volume today
Some experts considered the slippage of Vietcombank (VCB) as a consequence of gloomy sentiments in market at large. And because of VCB's weak impact, investors were unwilling to take greater risks in buying more stocks. 
But the VCB IPO did heat up the over-the-counter (OTC) securities market.  
Since VCB's shares opened at an attractive price, they were predicted to trade in large volumes on the OTC market and encourage more investors to join in. Overall, however, the impact was minor. 
Several big caps remained unchanged this morning: Phu My Fertilizer and Chemicals (DPM), Pha Lai Thermal Power (PPC), Hoa Phat (HPG), Saigon Securities (SSI), Tan Tao Industrial Park (ITA) and Minh Phu Seafood Import-Export (MPC). Others dropped slightly: a fall of VND2,000 for Vinamilk (VNM) and down VND500 for Sacombank (STB) and Vinh Son Hydropower (VSH) 
Despite the slip in prices of some stocks, investors still saw positive developments in the increased volume today, up to 6.6 million shares at a value of VND640.3 billion, an increase of 20 percent over last session.  
The VN-Index not only saw the usual stocks having large trading volumes, including Saigon Securities (SSI), FPT Corporation (FPT), Sacombank (STB), Phu My Fertilizer and Chemicals (DPM) but also welcomed fresh winds from some strong newcomers, such as Lideco (NTL), Vincom (VIC) and Alphanam (ALP).
Related articles:

Vietcombank Share Auction Results Reported