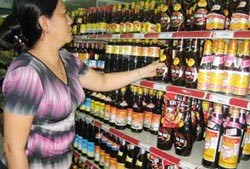 Masan manages Chisu's sauce brand, the leading brand in Viet Nam's spice.
On August 28, in Ho Chi Minh City, the Viet Nam Opportunity Fund (VOF) managed by VinaCapital has officially announced the buying of 1,275,000 common shares in the Masan Industrial – Commercial Joint-stock Company (Masan).
With this deal, VinaCapital becomes Masan's strategic investor with a 15% stake in the company. Masan's chartered capital also increases VND72.5 billion to VND85 billion (about US$5.3 million).
Besides the financial support, the cooperation marks an important step in Masan's strategy aiming for attracting human resources based on VinaCapital's expertise, which could encourage capital to grow strongly and more efficiently in the future.
Masan is currently finishing necessary procedures for its IPO and listing in 2007.
Masan is currently very successful as in July 2006 alone the company's earnings after taxes reached 61% of the annual plan (VND17 billion), while revenue reached roughly 65% of the 2006 plan.
With this rate of growth, Masan aims to raise revenue by 32% and profit by 70% over 2005. In detail, the company expects to generate VND750 billion in revenue and VND28 billion in earnings after tax.
Masan's sauce brand Chinsu has been the leading brand in Viet Nam's spice and sauce industry for three straight years (2004 – 2006) and accounts for 60% of revenues from Viet Nam's premium sauce sector. Chinsu is also one of the ten leading brands in the Russian market.
Related Articles:
VinaCapital to Buy 70% Stake in Hilton Ha Noi
VinaCapital to Develop Prime Da Nang Site for Golf Course and Resort Complex