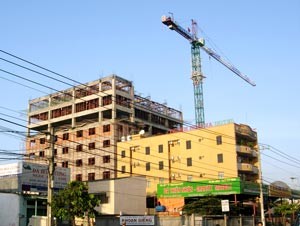 Vinaconex is the investor of many contruction and infrastructure investment projects. (Photo: T.C)
The Viet Nam Construction and Import Export Corporation (Vinaconex) will offer VND650 billion (about US$28.11 million) worth of shares in early September.
As planned, Vinaconex will sell about VND450 billion worth of shares to its employees and strategic investors. The VND200 billion remaining will be offered to the public. This is the initial public offering (IPO) of Vinaconex and is expected to be conducted in the 3 – 6 upcoming months. After this IPO, Vinaconex will sell roughly VND600 billion worth of shares in par value in the second issuance.
Vinaconex is one of the state-owned corporations run by Ministry of Construction (MOC), which has finished equitization all of its subsidiaries, and prepares to change into parent – subsidiary company model.
When changing into a shareholding company, the initial chartered capital of Vinaconex was valued at VND1,500 billion (about US$93.71 million), equivalent to 150 million shares with the par value of VND10,000 each. The state will hold 64% of the company stake (VND960 billion). The remaining will be sold to employees, strategic investors, and to the public via auctions in phase-manner.
As of early August, the registered buying volume from the 6 strategic investors (which are banks, investment funds, and securities firm…) has tripled the shares available. The price offered to strategic investors will be 20% lower than the average auction price. However, these investors will not be able to transfer the shares in 3 years. The shares offered to the company's employees, in particular, will be 40% cheaper than the average auction price.
In 2005, investors expected that Vinaconex along with the Viet Nam Dairy Products Joint-stock Company (Vinamilk) and the Viet Nam Food Industries Joint-stock Company (Vifon) – the dominating player in domestic instant noodle market – would soon to list and spark the stock market. However, so far, only Vinamilk has hit the bourse while Vinaconex plans to list some of its subsidiaries on the exchange no sooner than 2007.