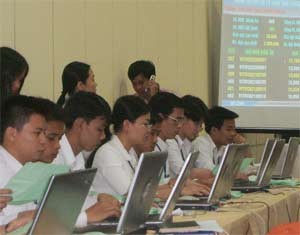 On March 13, 34.3 million shares of VINARE will be issued on the stock market. (Photo: TK)
Viet Nam's National Reinsurance Corp VINARE will make its Initial Public Offering (IPO) on the Ha Noi Securities Trading Centre (HASTC) on March 13, 2006.
With 34.3 million shares valued at VND343 billion (US$21.5 million), the joint stock corporation is the tenth enterprise listing shares at the HASTC.
Thus, the total value of trading shares at the HASTC will increase to over VND1, 843 billion.
VINARE is an insurer and financial investor, which provides insurance and reinsurance services in both the domestic and international markets.
Related links: