Investors' hopes have rallied as the VN-Index reversed course this morning to gain 15.61 points and close at 987.96.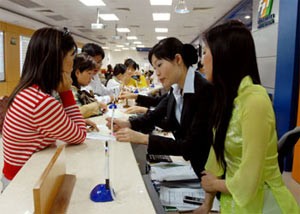 Investors at the FPT Securities Joint Stock Company

The HASTC-Index in Ha Noi joined the upswing and rose 4.05 points to close at 345.15.

The first session of December showed surprisingly positive signs of a rebound in blue chips. Phu My Fertilizer and Chemicals (DPM), which had never seen its share rise even VND1,000 since its debut, suddenly gained VND1,500 today thanks to slowing sell orders.

Sacombank (STB) continued to see a large number of sales as all 500,000 shares offered were traded at VND70,000 each. The increase in buy orders helped STB shares rise VND1,500 on a volume of 2.12 million sales.

Another blue chip, Saigon Securities (SSI) gained VND8,000 as buys orders overwhelmed sells as the session ended.

Vinamilk (VNM) and Pha Lai Thermal Power (PPC) both rose to their upper limit by gaining VND7,000 and VND2,500.

Other big caps began to put on better performances as well. Kinh Do Foods (KDC) rose VND5,000, Petro Vietnam Drilling and Well Services (PVD) shares were up VND4,000, and Schenker-Gemadept Logistics (GMD), Saigon Cables & Telecommunication Materials (SAM), Sudico (SJS) and Vitaco (VTO) were all up VND2,000, while FPT Corporation (FPT) and Vinh Son Hydropower (VSH) rose VND1,000.

Meanwhile, thanks to the news of its construction plans for the Thanh Cong Tower No.1, Thanh Cong Textile Garment (TCM) rose to its upper limit today after gaining VND3,500.

Today's session ended with 72 winners, a promising sign for the market as the year ends.