The VN-Index rose only a slight 0.95 points to close at 988.91 this morning. Although trade volume saw an increase of nearly 20 percent, the number of gainers decreased a bit, leaving experts wonder whether it signals a new trend or not.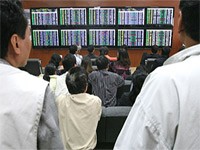 The VN-Index gains a bit this morning (Photo: Dan Tri)
Only 45 out of 127 listed shares were gainers, four of which rose to their upper limits.

Most blue chips gained slightly, including Vung Tau House Development (HDC), Schenker-Gemadept Logistics (GMD), REE Technology (REE), Petro Vietnam Drilling and Well Services (PVD), Saigon Securities (SSI), Vinh Son Hydropower (VSH), and Phu My Fertilizer and Chemicals (DPM).

However, volume of trades saw an strong increase of 17.27 percent over yesterday's session with 9.932 million stocks worth VND1,019 billion changing hands.

News that the Vietnam Commercial Bank (Vietcombank) is busy preparing for its first share issue before year-end heated the market's atmosphere. Sacombank (STB), often regarded as the most transparent stock, was the most sought-after stock of the day with over 1.9 million shares finding new owners.

In Ha Noi, the HASTC-Index rose 4.35 points to close at 349.5 with 5.460 shares changing hands for VND529.713 billion. The biggest gainer of the day was Song Da (S99), which increased VND22,100 to end up at VND388,400 per share.