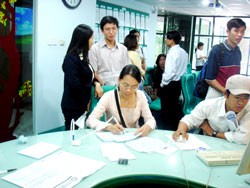 Individual investors opening new trading account. (Photo: T.C)
Viet Nam's stock market is still soaring as the VN-Index rose to a new all-time high, 571.16 points, after nearly 6 years of operating.
Since the beginning of the year, the market has increased by 85.74% and was considered by CNN as the world's second-best growing market in 2006.
The April 19 trading session was definitely worth taking a look at. All of the market's "Big 5", VNM, REE, KDC, SAM and GMD, which accounted for 71.2% of the total market capitalization, either stayed flat or slightly down.
However, even these key stocks could not keep the VN-Index from surging as 21 other stocks skyrocketed.
At closing, the market average saw an increase of 0.22 pt (0.04%) to 571.16 pts, small but enough to break its 571.04 points mark set on June 25, 2001.
It is obvious that individual investors are creating a "stock fever" while the influence of institutional and foreign investors have been reduced significantly.
In two latest trading sessions, foreign investors sold 907,920 shares and bought 265,510 shares. This accounted for VND 41.48 billion of their selling volume, two times more than their buying volume of VND 18.23 billion.
The supply of shares from foreign investors seemed insignificant compared to the current enormous and ever-increasing demands.
Related Articles:
Viet Nam' Stock Market Is the Second-Fastest Growing: CNN
The Heat Is Still There