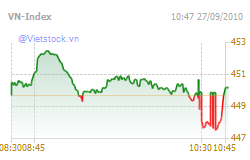 Movements of VN-Index on September 27. (Photo: vietstock.vn)

Vietnam's benchmark VN-Index struggled to recover on September 27 as investors were wary after a report showed that the customer price index hiked 1.3 percent in September.
The shares of 258 companies and five mutual funds listed on the Ho Chi Minh Stock Exchange gained 0.11 percent, or 0.49 points, to finish at 450.2 points.
Trading volume remained low as just 37.4 million shares changed hands at VND954 billion.
Red took the upper hand on the electric board as 129 stocks fell. Meanwhile, 77 stocks advanced and 57 were unchanged.
Ocean Group Joint Stock Company (OGC) continued to stay at the position of most active share in volume for nine consecutive trading sessions, seeing 2.48 million shares changing hands.
Saigon Thuong Tin Commercial Bank or Sacombank (STB), which jumped the daily maximum allowed limit of 5 percent, followed with 1.812 million shares, tagged along by Petro Capital & Infrastructure Investment Joint Stock Company (PTL) with 1.81 million shares.
From September 27 to November 27, Old Square Capital Master Fund, L.P, inside shareholder of Saigon Thuong Tin Commercial Bank (STB), registered to buy 30,000 shares and sell 55,000 shares, sending its holdings to 110,000 shares, to restructure its investment category.
Sao Mai Construction Corporation (ASM) hiked 4.88 percent to VND64,500.
Thien Nam Trading Import Export Corporation (TNA) edged up for three straight trading sessions, gaining 4.85 percent to VND34,600.
The newly listed Viet Thang Aquafeed Joint Stock Company (VTF) tumbled 4.97 percent to VND17,200.
Viet Nam Land Investment Corporation (VNI) slashed 4.93 percent to trade at VND21,200.
Tai Nguyen Corporation (TNT) dropped 4.92 percent to VND30,900.
The Hanoi's HNX-Index added up 0.3 points, or 0.23 percent, to close at 129.93 points. Trading volume fell to 24.8 million shares, worth VND614.41 billion.
The UPCoM-Index cut 0.35 points to 46.89 points. A total of 223,176 shares were traded at VND4.17 billion as of 11 am local time.