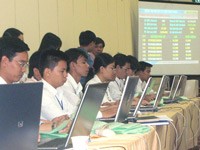 A public sale in Ho Chi Minh City Securities Trading Center. (Photo: T.C)
Ho Chi Minh City Securities Trading Center went on holding the initial public offering (IPO) of Vietnam Ocean Shipping Agency (VOSA), a subsidiary of Vietnam National Shipping Lines (Vinalines).
The company offers 4,491,600 shares, 38.55% of its chartered capital of VND 116.5 billion. The initial price of this auction is 10,500 VND per share.
The registration period is from Mar 13th to Mar 22nd and the auction takes place at Mar 31st. The offering has caught investors' attention as VOSA is one of the best performer in forwarding, warehouse leasing, and transportation in Viet Nam.
This issuance has been delayed since Feb 9th, waiting for the government's approval of offering VOSA's stock to foreign investors. Now, the new regulation allows individual investors to buy up to 233,000 shares (2% chartered capital) and institutional investors (including foreign investors) to purchase up to 1,165,000 shares (10% chartered capital).