Listed stock prices have increased more than 32% only after one month. 36 stocks and fund certificate all up including one which rise astonishingly 62%. Investors are currently enthusiastic with the fascinating growth of the market.
At the beginning of March, only after two trading sessions VN-Index jumped 22.17 points, extending an unforgetable month for investors. At the end of March 2nd trading sessions, VN-Index went over 410, closed at 412.82, an increase of 43.89 points (11.9%) compared to that of the week before and 100.5 points (32.1%) more than that of before Lunar New Year (Jan 27th). The total trading volume reached VND 65.7 billion per session, the highest ever of Ho Chi Minh City Securities Trading Center in more than 5 years. What are the reasons behind this remarkable boom?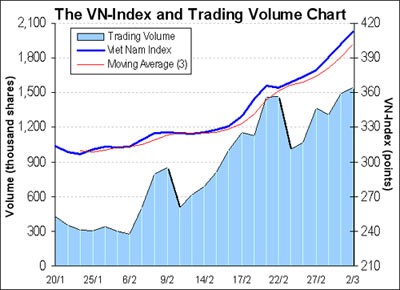 Trading volume and Viet Nam's stock index increase to fast (Jan 20 - Mar 2). (By T.C)
First, it is because of the performance of listed companies. 2005 was a pretty successful year for these companies as the average annual growth was over 20%, dividends were paid as planned. Moreover, this time of the year is the time for annual shareholder meetings in which the investors are informed about the companies' strategy and plan for the year ahead. The share price usually reflects the impression investors get from these meetings.
Viet Nam Securities Investment Fund (VF1) is a case in point. After the meeting, its fund certificate price stays firmly at the ceiling price in 2 consecutive sessions; bidding volume is 6 times greater than the selling side. The price has upped 7,700 dong (62.1%) to 20,100 dong. VF1 is also the most 'bullish' securities in two recent months.
Second, 2006 is not the same as previous years. The investors' expectation has grown much bigger since. As the matter of fact, investors nowadays ready to spend more in order to own the shares they want. Average P/E (the ratio of market price per earning by share) of the market has upped to over 11. In the case of some respectable companies, their stocks are bought at the price in which P/E ratios are already high such as TRI (24.22), REE (22.44), PNC (19.36), VNM (18.94), TYA (18.75), SAM (17.14) and GMD (16.59). A new ground of P/E are being established as the investors' trust in those listed companies has developed.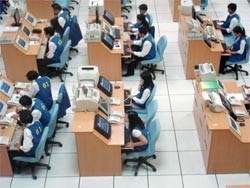 Brokers in stock trading center busy with more bidding sides. (Photo: T.C)
Futhermore, the Government and Ministry of Finance recently have discussion about securitites-related laws. The open-up and encouragement policies have really got positive response from investors and reinforced their faith in the market. In addition, the Ministry of Finance has just decided to lower the brokerage fee, including halving the fee of trading fund certificate and cutting down 90% bond's trading fee.
This has partly resulted in the doubling of trading accounts. Increasingly demand has powered the bullish trend of the key stocks and whole market. VNM upped 19,000 dong (35.84%) to 72,000 per share; REE rose 17,000 dong (46.6%) to 53,300 dong per share; SAM grew 20,800 dong (49.3%) to 63,000 dong per share and GMD after issuing bonus shares down to 57,000 dong per share but estimated having upped (36.4%).
Finally there are also many new economic developments that boost the stock market. At the end of January, Nidec, Japanese largest telecommunication corporation adding USD500 million, made its total investment in HCMC High-tech Zone of USD1 billion within the next 5 years. The total revenue of this investment is forecasted to be USD1 billion in 2008 and USD2 billion in 2010. And, just as Business Week, an American prestigious financial and economic magazine, was quoted commenting on Intel, who had lately decided to make a long-term investment of USD300 million in a chip factory in Viet Nam, as standing in front of "the dawn of a new era", the same phrase can surely be borrowed for the future prospect of Vietnamese Stock Exchange.
The data table of 36 stocks and fund from January 27th to March 2nd:
Stock
symbol

Price in Jan27

Price in Mar2

Difference ratio (%)

Volume total (stocks)

Value total (VND thousand)

P/E

Yield
(%)

1

AGF

40,200

53,500

33.08

527,600

23,712,166

12.25

1.50

2

BBC

22,900

26,400

15.28

1,306,900

31,439,965

12.04

4.55

3

BBT

10,500

11,300

7.62

543,680

5,965,602

60.71

4

BPC

16,400

17,000

3.66

107,040

1,791,951

7.32

8.82

5

BT6

32,000

36,000

12.50

640,820

22,277,943

10.39

4.17

6

BTC

8,000

9,300

16.25

67,510

582,199

7

CAN

18,500

23,100

24.86

339,520

7,449,232

10.97

2.16

8

DHA

46,800

58,500

25.00

342,050

17,084,120

6.15

3.42

9

DPC

13,400

12,900

5.22

246,480

3,213,682

8.72

9.30

10

GIL

33,900

40,700

20.06

1,025,060

38,899,799

9.12

3.93

11

GMD

70,000

57,000

36.43

594,220

50,127,705

16.59

12

HAP

24,100

36,700

52.28

665,710

19,180,430

8.44

3.81

13

HAS

37,300

49,000

31.37

127,660

5,217,507

9.21

3.06

14

HTV

16,300

19,900

22.09

291,810

5,017,379

10.75

15

KDC

54,000

60,000

11.11

282,350

15,775,265

15.28

1.33

16

KHA

20,200

21,800

7.92

371,750

7,835,962

4.89

8.26

17

LAF

19,600

20,700

5.61

746,620

14,982,207

12.96

3.86

18

MHC

23,300

25,900

11.16

575,260

14,086,860

10.73

3.09

19

NHC

26,500

26,500

0.00

17,970

489,098

7.09

6.32

20

NKD

55,500

66,000

18.92

197,570

11,633,495

13.06

21

PMS

14,300

15,000

4.90

108,060

1,571,305

7.95

8.00

22

PNC

20,600

27,500

33.50

140,580

3,412,785

19.36

2.18

23

REE

36,500

53,500

46.58

2,831,510

125,318,307

22.44

2.62

24

SAM

42,200

63,000

49.29

1,649,010

89,864,078

17.14

2.54

25

SAV

32,000

39,100

22.19

737,800

25,552,197

10.61

4.09

26

SFC

28,000

29,700

6.07

108,070

3,044,046

7.57

5.72

27

SGH

18,800

18,600

-1.06

27,700

510,210

12.85

5.38

28

SSC

44,400

54,000

21.62

149,460

7,266,557

11.03

3.70

29

TMS

44,100

51,500

16.78

132,890

6,290,074

12.66

2.91

30

TNA

28,100

30,000

6.76

7,950

225,278

9.18

6.67

31

TRI

26,700

30,400

13.86

193,260

5,486,669

24.22

4.93

32

TS4

24,500

27,700

13.06

72,620

1,895,636

13.09

2.17

33

TYA

34,000

35,000

17.94

2,100,100

51,429,372

18.75

34

VFMVF1

12,400

20,100

62.10

5,491,340

116,085,688

35

VNM

53,000

72,000

35.85

1,996,700

125,396,025

18.94

2.36

36

VTC

32,500

36,500

12.31

281,570

9,597,986

8.99

1.92
(Source: SGGP English Edition; Unit: VND)
Notes:
* DPC 12% dividend payment is paid by money for 2005 fiscal (record date: Feb 20th 2006)
* GMD Issuing for existing shareholders with distributing ratio is 3:2. Number of extra issued common stock: 13,809,374 shares
* TYA 15% dividend payment is paid by shares for 2004 fiscal (record date: Mar 24th 2006)