The number of women investors on the stock market increased relatively since the market opened, and they are somehow more skillful and effective than men, brokers said.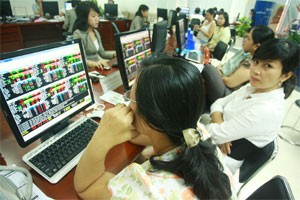 Women investors watch share prices updated on computer screen at the Ho Chi Minh Securities Corp. Many brokers prefer women investors, who are more patient than men (Photo:Minh Tri)
Many veteran brokers said women clients were more patient and suffered loss pressures better than men.
A broker of a Ho Chi Minh City-based securities firm recalled "in 2009, property firm Sudico, listing on the Ho Chi Minh Exchange coded SJS, rose from VND50,000 in April to around VND220,000 at the end of October."
"A woman investor identified T decided to buy a large amount of SJS shares at the price of VND116,000 with an expectation that the share price would jump to VND150,000.
"However, SJS made corrections, falling to VND90,000, after reaching to VND120,000. While other investors dumped the shares to cut losses, T still pinned her hope in a recovery, buying more SJS shares at VND90,000.
"She eventually took big bucks by selling the shares at the price of VND180,000."
Another broker said women investors were better at suffering the pressures of losses on share prices as they did give up hope easily. But because of that, they easier incurred heavy losses when the market made corrections in long time, he noticed.
A woman identified H., daughter of a director of a big steel firm, earned more than VND3 billion from VND2 billion by investing in the stock market in the first nine months of 2009.
The achievement encouraged her to keep pouring money into the market without making cautious researches. H then lost nearly the entire amount of VND5 billion as the market slumped 32 percent to 430 in two months starting from October 23rd.
Of the total amount of VIP clients, the number of women investors is equal to the number of men, according to brokers. Most of them tend to have faith in their brokers, taking all advices, brokers said.
Some women investors are able to predict the market's move as they are wives of listed companies' directors or even directors of the firms. A woman identified U often makes hundreds of billions of dong from her investments in the stock market as she can achieve exclusive information and the latest financial news from her husband, who is a big boss of a financial firms.
"Among speculators driving the share prices are even some women. Different from men investors, they usually trade alone or team up with each others in a few affairs only," a broker at a securities firm in a central province disclosed.