More than 200 internship and job opportunities from international and Vietnamese companies were showed to higher education students at a training camp in Ho Chi Minh City Saturday, where about 500 people joined.
The Supply Chain Young Talent Training Camp, held by Vietnam Supply Chain, took place in the whole day at the Continental Hotel in District 1, with information sessions and interviews.
Companies offered internship and job opportunities included IBM, Dutch dairy products manufacturer Friesland Campina, Nielsen, Odyssey Resources, MTV Quang Minh, Ignite International Corp., HSBC, Generali Vietnam Life Insurance, Cathay Vietnam Life Insurance, Prudential Vietnam Finance Co., Sapporo, Parkson Vietnam, Denmark's Sonion Vietnam, Dinh Phong Telecom, and some others.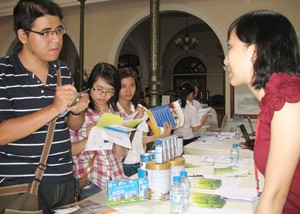 A staff member from the Friesland Campina Vietnam recruitment department (R) provides students with her company's employment information at the training camp August 13, 2011 (Photo: Minh Tuong)
Participating students came from RMIT University, Polytechnic University, National University HCMC, University of Economics HCMC, University of Industry, Lotus Univ., Foreign Trade Univ. and some others, according to the organizer.
The organizer, a platform for supply chain professionals in Vietnam to learn, share, and network, brought supply chain practitioners and experts to the event as speakers to help the students with information and experience.
Ms. Dang Ngoc Khanh Van, learning and organizational development manager from healthcare goods producer Kimberly-Clark Vietnam, made a presentation on soft skills a career starter needs.
"Supply Chain: A whole new world" seminar in English was held for the students as part of the training camp.
Other sideline activities included an exhibition on internship and jobs, a supply chain competition for young talents, and English test: "Is your English good enough for the job?" on the computers at site.
The training camp was held mainly to find potential talents for the supply chain industry in Vietnam, said Vietnam Supply Chain managing director Quyen Nguyen.