Products in the subsidization program 2014 in Ho Chi Minh City will create a logo to facilitate consumers' awareness of the program's products, said Deputy Chairwoman of HCMC People's Committee Nguyen Thi Hong on March 18.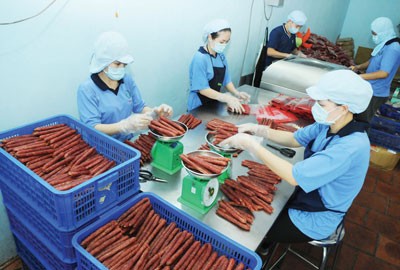 Chinese sausage production for the price subsidization program at Nam Long Food Enterprise (Photo: SGGP)
The logo will contribute to advertising the program's aim raise effectiveness, said Hong. It is also aims to prevent organizations and individuals from taking advantage of the program's brand.
Department of Industry and Trade and relevant agencies are hosting a contest to choose the best logo for the program.
HCMC will continue to subsidize prices of food products, milk products, school supplies and medicines, she said.
So far, 72 businesses have registered to attend. The total cost for the program will increase VND 6,190 billion (US$ 294 million) over last year reaching VND 8,150 billion (US$ 387 million).
It is expected to start April 1, 2014 and end March 31, 2015.
One of the main supplies will be from agricultural cooperatives which produce vegetables and fruits in Vietgap quality standard.
The program will be conducted in accordance with the 'Vietnamese Consume Vietnamese Goods' campaign.
Subsidized products currently account for 25-65 percent of the market demand in HCMC.