Increased cooperation between sugar factories and sugarcane farmers is vital to ensure stable supply of raw material, a conference held in central Quang Ngai province heard yesterday.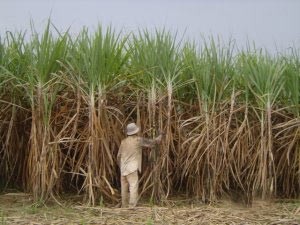 A farmer looks after his sugarcanes in Quang Ngai province
The conference was organized by the Ministry of Agriculture and Rural Development to address serious problems faced by sugar plants, including reduced sugarcane production and cross-border smuggling of sugar.
Fourteen sugar plants in central provinces, including those in Central Highlands, now face a serious lack of raw material, two have had to stop operation, the conference was told.
The main reason is that farmers have stopped growing sugarcanes because of falling prices, conference participants said.
The total acreage of sugarcane in central provinces has now shrunk to about 67,500 hectares from 72,000 hectares last year, representatives of sugar factories said.
To ensure table material supply for sugar production, factories and sugarcane growers should sign contracts in which sugarcane prices are guaranteed at rates acceptable by both sides, the conference agreed.
In addition, sugar factories need to cooperate with each other in purchasing sugarcane from farmers, to avoid unhealthy competition that may also lead to supply shortages.
Participants wanted the ministry to ask the government to grant soft loans to sugar factories to enable investment in increased production.
They also wanted provincial authorities to boost investment in developing sugarcane growing areas and provide new high-yield varieties of sugarcane to farmers.
The sugar factories also asked relevant agencies to take appropriate measures to prevent the smuggling of sugar and to make plans to promote the consumption of domestically produced sugar.