The Sun Steel Corporation started work on a US$35-million steel mill in Binh Duong Province bordering Ho Chi Minh City on Feb. 6.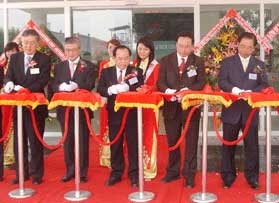 Representatives of Binh Duong Province of Sun Steel cut the ribbon for the inauguration of the company's new office on Feb. 6 (Photo: Binh Duong newspaper)
Located in Tan Dong Hiep Commune, Di An District, the plant will have two main production lines to manufacture rolled steel and steel pipes. It is expected to start operation by March 2010 with a capacity of 10,000 tons of products a month.
The plant will be capable of producing steel pipes with a diameter of 16 inches that are used in the oil industry and for construction projects.
On the same day, Sun Steel inaugurated its new office in the same commune.
The foreign-invested company was established in 1996 and has been operating since 1998 in Binh Duong province. Maruichi Group has acquired 62.56 percent of Sun Steel stake and to become its parent company.
Sun Steel products include steel billets, bars, cold rolled, galvanized and pre-painted steel, steel pipes and steel materials for machinery parts.