Saigon Co-op Mart, a leading supermarket chain in Vietnam is planning to kick off a promotional program to motivate the people to buy more "Made-in–Vietnam Products" from August 29 to September 25.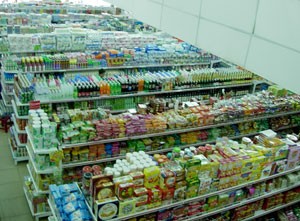 Saigon Co-op Mart cooperates with suppliers to offer discount up to 50 percent on over 1,500 items. (Photo: Anh Vu)
The supermarket chain is expecting to spend more than VND50 billion (US$2.2 million) on the program.

More than 186 suppliers will take part in the event, offering discounts up to 50 per cent on over 1,500 items in 50 Co-op Mart supermarkets and 22 Co-op Food stores throughout the country.
Customers of Co-op Mart and Co-op Food will also have an opportunity to receive gifts and join lucky draws for prizes that include nearly 50 taels of gold!

The promotional event is part of the annual "HCMC sales promotion month" and aims to encourage and motivate the Vietnamese people to buying more 'made-in-Vietnam' products.