Due to the sharp decline of consumer cash after Tet, supermarkets in the city are competing against each other to attract customers into their stores.

Supermarkets offer large discounts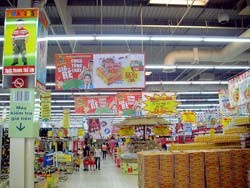 Hundreds of commodites sold offered special discounts at Big C supermarkets
The General Director of Saigon Co.op Mart said that the chain is offering a 10 percent discount on vegetables. The prices of all kinds of fruit are down by between VND1,000 and 3,000.

Factory-made goods, processed foods, cosmetics and garments and household appliances are also on special offer.

Saigon Co.op Mart has also launched a special promotion. On February 27 and 28, 65 thousand doctors, nurses and medical technicians working in hospitals throughout the city were given special discount cards.

Those having such cards will enjoy discounts from five to ten percent when they spend between VND300,000 to 1 million.

Between 2 – 15 March, Saigon Co.op Mart will work with the Japanese Business Association to organize the Japanese Goods Fair at its supermarkets. Customers buying any product from Japanese factories made in Vietnam will be offered special discounts or gifts.

On Women's Day, March 8, 280 pendants made from 18 carat gold will be given to winners of a draw to be organized by Saigon Co.op.

At Big C supermarkets between February 18 and March 8, consumers can buy many goods at half price. For instance, an egg will sell for just VND 1,000. Other products, like instant noodles, cooking oil and condensed milk are to be offered at between 10 and 17 percent discounts.

Some brands of toilet paper and cosmetics will be discounted at 30 percent.

Prices of household appliances drop

Prices of household appliances are dropping by 40 to 50 percent.

At Big C, prices of rice cookers and electric irons are down by 50 percent.

At Metro supermarkets, a 32- inch Samsung or Panasonic LCD television now costs only VND7 million ($400), down by nearly 40 percent.

At Thien Hoa Household Appliance Trading Center, a 19-inch Sony LCD television sells for just VND5.9 million.

Other Household Appliance Trading Centers, including Nguyen Kim and Cho Lon, are offering discounts rates of between 20 to 30 percent.