Development of support industry has come under the Government's priorities to boost modernization and industrialization by 2020, however there has been no breakthrough in last couple of years.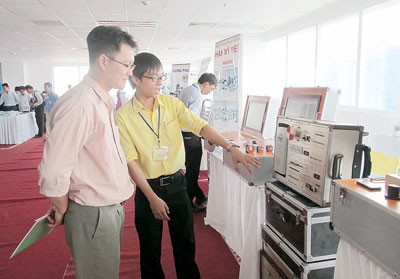 Hung Phu Automation Company staff (R) introduces industrial automation products to a customer (Photo: SGGP)
According to Decision 12/2011/QĐ-TTg, support industry is an industry which produces materials, components and semi-finished items to supply production and assembly of fully-made products.
These products belong to fields like manufacturing mechanics, electronics and information technology, automobile, garment, footwear and hi-tech.
Localization rate in the automobile industry is accounted for only 5-10 percent. Domestic production in mechanics occupies 20 percent of equipment value. Locally made components account for 21.5 percent of total investment capital of electronics industry.
Vietnam now imports up to 80 to 85 percent of materials for garment industry, which is export strength of the country.
Most achievement is from motorcycle industry whose localization rate reaches 85-90 percent.
Capital demand for projects in the support industry is very large while 90 percent of Vietnamese enterprises are of small scales with limited capital access ability.
Several production sectors in the support industry usually are listed in the environment pollution group like dying and leather, concerning local authorities and discouraging businesses due to costly pollution treatment and regular visit of environment inspectors.
Competitiveness of Vietnamese support products is low partly because of high prices. It seems to be difficult for them to meet quality and technical requirements given by foreign companies in Vietnam.
Connectivity among businesses is weak, only few of them have been able to create strategic cooperation relations with their partners and customers. They have paid little attention in linking production with consumption.
Besides, human resource is also an issue for the support industry's development.
Most domestic companies have done outwork in main export industries like garment, leather and footwear, handbag, electric and electronic items and mechanics. They don't have much opportunity to choose local materials.
Gov't assistance policies proposed
To create a breakthrough for the support industry, the Government should have appropriate investment, improve localization polices and establish industrial zones specialized in this field.
Besides tax and interest incentives, the Government should also encourage financial companies and banks to develop financial leasing form so that small enterprises can access advanced equipment and machines to make support products.
They should introduce qualified companies in the support industry with FDI companies and multinational groups.
Businesses themselves are proposed to take the initiative in doing market research, looking for partners and training human resources. They should be ready for technology transfer when necessary to meet demand of large groups.


According to Professor Vo Thanh Thu from the Ho Chi Minh City University of Economics, Vietnam's support industry has weakly developed because of a shortage of assistant policies.

The Government should improve legal basis, plan the industry's development and create advantageous environment for businesses to attend in the process, he said on July 30 at a seminar co-organized by the Central Institute for Economic Management and the university.

By Dinh Ly