Close cooperation in providing necessities is essential for the sustainable development of both production and distribution, besides avoiding instability in supply and demand, prices, and quality of goods.

Weak links mean higher prices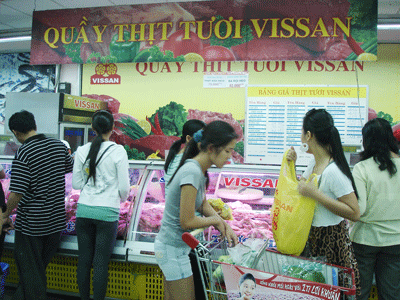 Consumers buying Vissan's  meat in Saigon Co-op ( Photo: SGGP)
Lately, there has been much fluctuation in the consumer goods market, particularly in food items and agricultural materials, affecting the national consumer price index, noted Tran Nguyen Nam, Deputy Director of the Domestic Market Department. This in turn directly influences standard of living.

Objective factors aside, there exists a very loose connection in the essential goods supply chain, making prices unstable and goods with low quality.

For instance, in the past few years, the fertilizer market is almost always unsteady during the winter-spring rice season even though it is a fact well-known that demand for this product is usually very high at this time of the year.

Despite the announcement of a ceiling price for urea fertilizer by the government, retailers often sell at a higher price of VND1,000-1,500 per kilo (US$0.05-0.07).

This is the result of a weak link between producers and traders, hence unnecessary logistic expenses and difficulties in monitoring retail prices as well as quality of merchandise. It is also an infamous opportunity for fake goods.

Another case is of pork price, which fluctuated a great deal last year. Compared to January, the price in July went 66-88 per cent up in the Northern part and 53-70 per cent up in the Southern part of the country.

Besides, a pig epidemic and high interest rate from the banks, poor information on exporting pork to China, all deeply worried consumers, forcing pork prices up, even though domestic supplies were in abundance.

Van Duc Muoi, president of Vissan Co., stated that since only 15 per cent of pigs raised for meat were brought up in industrial farms, a large amount comes from unidentified origin, inconsistently processed, and of different genes.
This results in very low-quality produce, hardly meeting requirements of clean and safe processed food.

Long-term strategy urgently needed

Saigon Co-op shared its experience in successfully implementing a 4-step supply chain for green-grocery: building a business plan (predicting the market's supply and identifying number-one products); creating strong links in the supply chain (signing investment and consumer contracts with farmers, guiding members in producing); selecting processing businesses in accordance with the Viet Gap guideline; signing contracts with agricultural cooperatives.

This ensures better positioning for Saigon Co-op in selling merchandise of the highest quality. The main point of this procedure is the warranty of benefits for all three partners (producer – distributor – consumer).
Bui Hanh Thu, Vice President of Saigon Co-op
Basically, a food supply chain consists of producing, processing and distributing to wholesalers and retailers. The biggest problem at the moment is an uneven balance of profits among partners.
Till now, there is still a lack of proper and synchronised policies and regulations, especially long-term strategies for sustainable development of profits between producers and traders.

Truong Tien Dung, president of Saigon Aquatic Products Trading Joint Stock Company, commented that the government should focus their attention on the base of the supply chains with good genetic animals, and policies for breeding grounds instead of focusing on end of those chains, like they are doing right now.

After careful research, Do Van Nam, Chief of the Department of Processing and Trade for Agro-Forestry-Fisheries Products and Salt Production under the Ministry of Agriculture and Rural Development, suggested the following three ideas.

Firstly, profits of both producers and traders should be identified more fully and fairly.

Secondly, the government and related agencies have to raise awareness on the rights and benefits of all partners in the supply chain, especially farmers and processing businesses, making tighter connections.

Finally, as the government plays an important role in orienting and monitoring these supply chains, there should be a long-term strategy for sustainable development.

It is strongly believed that once these suggestions are adopted, problems in supply chains will gradually disappear and they will no longer be considered 'a pilot model'.