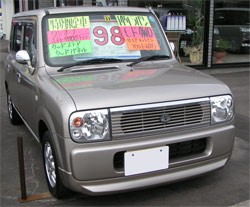 The Decision providing guidelines on tax rate of imported used cars was officially promulgated
Decision No. 69/2006 of the Prime Minister was officially promulgated on March 28, 2006, regulating the tariff on imported used cars which are fifteen seats or fewer.
Under the Decision, the Ministry of Finance (MoF) has been authorized by the Prime Minister to raise or lower the rate by 20% after considering the situation.
If the MoF wants to make an adjustment greater than 20%, it will have to report to the Prime Minister for final approval.
The tax adjustment aims to control and regulate the domestic market, prevent tax frauds and ensure state budget revenue.
The decision will be valid for all of import, export declarations at customs agencies from May 1, 2006 and will supersede previous related regulations.
The tariff on imported used cars will put into public on May 1, 2006

Car

Capacity

Fixed Tax Rate for One Car

Under 5-seat

Under 1,000cc

From 1,000cc to 1,500cc

Over 1,500cc to 2,000cc

Over 2,000cc to 3,000cc

Over 3,000cc to 4,000cc

Over 4,000cc to 5,000cc

Over 5,000cc

US$3,000/ car

US$7,000/ car

US$10,000/ car

US$15,000/ car

US$18,000/ car

US$22,000/ car

US$25,000/ car

From 6 to 9-seat

From 2,000cc or under

Over 2,000cc to 3,000cc

Over 3,000cc to 4,000cc

Over 4,000cc

US$9,000/ car

US$14,000/ car

US$16,000/ car

US$20,000/ car

From 10 to 15-seat

From 2,000cc or under

Over 2,000cc to 3,000cc

Over 3,000cc

US$8,000/ car

US$12,000/ car

US$15,000/ car