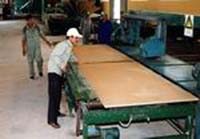 Workers make particle boards in the central province of Binh Dinh
The Government has cut value-added tax on coal, coal briquettes, and other solid fuels made from coal, particle board, oriented strand board (OSB), and others by 50 percent.
It came into effect February 1 and will be applicable for this year.
The Government said tax cuts on goods and services are aimed at stimulating investment and consumption to ward of the recession.