The public has been waiting for a reduction in transport fees since the petrol price was twice reduced by VND2,000 (US$0.12) per liter. As of Thursday, the taxi companies have yet to reduce their fees.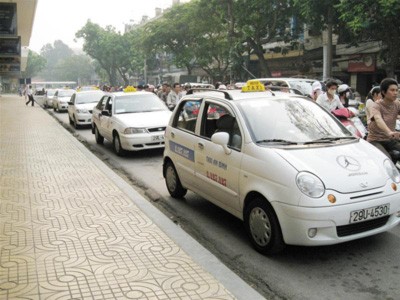 Some taxi companies will cut charges by 5-8 percent 
Vinataxi is considering a fee reduction of 5 - 8 percent, said Mr. Nguyen The Vinh, deputy general director of company. The final decision will be made after a meeting between the board of directors and the drivers. The company currently charges VND11,500 (US$0.70) per km, the same as Vinasun and Mai Linh.
A deputy general director of Vinasun revealed that his company's fee will be lowered to VND11,000 (US$0.67) per km, but a decision on the rate has yet to be made as this is an "sensitive" issues that directly affects drivers' income.
Mai Linh will reduce fees by 5 - 8 percent, said Mr. Truong Quang Man, the company's general director in charge of transport. He did not disclose when this reduction will come into effect.
The taxi firm Future will cut charges by VND500/km and will consider a further reduction later, said Vo Ba, the company general director.
At some coach stations, fares have been kept unchanged. A manager of the Western Coach Station said, "It may take 10 more days to know which companies actually reduce transport charges." He added that transport businesses have to register their new rates with the agencies concerned.
"When the petrol price increased on July 21, many companies immediately raised their charges, but when the fuel price reduced, they put forward a lot of reasons to avoid lowering their charges," said Mr. Nguyen Thi Phuong, a resident in District 3.
Most transport companies said that a total reduction of VND2,000 in petrol price is not enough for them to consider a reduction in fees.
"It is logical for transport fees go down when the petrol prices has declined," said a member of the Ho Chi Minh City Taxi Association. "However, many companies are facing difficulties caused by the increased price of cars and higher interest rates. Therefore, a reduction of 5 – 8 percent in transport charges is reasonable for the time being, I think."