HA NOI (VNS)  — The garment and textile industry in the first two months of this year gained a year-on-year increase of 30.1 per cent in export value to reach US$3.2 billion.
According to the Ministry of Industry and Trade, the industry had a surge of 44.9 per cent in export value in February to reach $1.3 billion.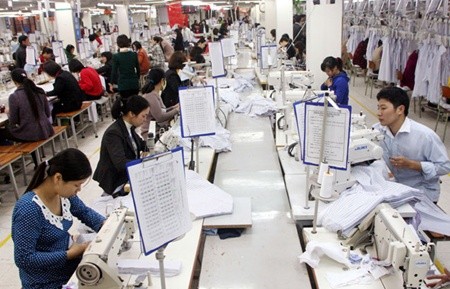 Employees at Thai Ha Garment and Textile Company in Thai Binh Province work on a production line. Many businesses in the garment and textile industry have signed export contracts for the third quarter of this year. — VNA/VNS Photo Tran Viet
The ministry said the textile and garment industry firms have started large projects to expand their production and receive new business opportunities this year, Chinhphu.vn reported.
So far, many enterprises have signed export contracts to be completed by the third quarter of this year, the ministry said.
Nguyen Thi Thanh Huyen, general director of the Garment 10 Corporation, said the company had signed many export contracts since early this year. It had increased investments to install more production lines to make high-quality products in its factories in the Thai Binh, Thanh Hoa and Quang Binh provinces, the Vietnamplus online newspaper reported.
The company had also renewed the organisation of production to increase capacity, she said.
Nguyen Ngoc Lan, deputy general director of Nha Be Garment Corporation, said his corporation had, like other Vinatex members, got enough orders to manufacture products the whole year. So he expects Nha Be to have better export results this year compared with last year.
Nha Be has invested several times in developing its production capacity to become an original design manufacturer. An original design manufacturer (ODM) is a company which designs and manufactures a product which is specified and eventually branded by another firm for sale.
Now many foreign customers want partners which can provide ODM services to help them save money and time, he said.
Viet Nam Textile and Garment Group (Vinatex) general director Tran Quang Nghi said the export products of Vinatex had reduced the use of import materials and increased products with design. So it had not only increased the export value but also increased the added value of the products.
Nghi said Vinatex had achieved its targets in the market and increased investment and efficiency with its restructuring of production and business to improve its competitiveness in the domestic and foreign markets.
The improvement of the quality of production and business is a key task of Vinatex this year, according to the general director. The group expects to gain a year-on-year increase of 12 per cent in export value this year.
Vinatex will promote its investments in developing materials and sub-materials this year, including solid-dyed cloth and yarn-dyed cloth, to increase the localisation rate of its products. That is one of key conditions to get more export opportunities under the Trans Pacific Partnership (TPP) Agreement, he said.
The group expects the member companies to get more export orders this year due to the bright forecast for the world textile and garment market and the increase in export opportunities from TPP.
Ho Thi Kim Thoa has highly appreciated Vinatex's success in equitisation and restructuring processes in the previous years and has also asked the group to focus further on the domestic market and to promote cooperation among Vinatex members this year to create a cooperative and competitive business environment.
In 2013, Viet Nam's textile and garment industry gained US$20 billion in export value. That represents a year-on-year increase of 18.6 per cent to reach $17.9 billion for textile and garment exports and a 15.7 per cent surge to reach $2.1 billion for fibre products. The industry boasted a trade surplus of $5.12 billion last year, with imports of raw materials estimated at $14.88 billion.
Vinatex had reported a gain of 11.2 per cent over 2012's figure to reach $2.91 billion in 2013.