A sudden surge in rice prices in Thailand has resulted in prices of Vietnamese rice to shoot up as well, creating a lucrative opportunity for exporters in the country.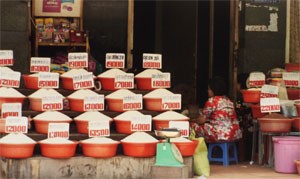 A retail rice shop in HCMC's Binh Thanh District. Price of rice in Vietnam has escalated considerably, influenced by the increase in Thailand (Photo: Minh Tri)
Price of export rice skyrocketed to VND10,500 per kilogram (US$510 per ton) last month, according to Nguyen Thanh Long, Chief Executive Officer of Viet Rice Company. This price is even higher than the global rate set in April 2008, of VND9,700 per kilogram.
Price of rice in Vietnam has escalated considerably, influenced by the increase in Thailand.
Price of 5-percent broken rice in Thailand surged to $570 per ton in the first half of July. This sudden surge boosted Vietnam's export price of rice by $30-40 per ton to settle at $500 per ton on an average.
The sudden increase of Thai rice prices was caused by the support of the Pheu Thai Party, which had promised to purchase domestic produce at an inflated rate, as part of their party manifesto.
One ton of dried rice was sold at 15,000 baht ($504). This meant that a kilogram would cost $0.5, approximately VND10,372.
This price rate was predicted during the Thai election campaign and Vietnamese enterprises began to accumulate tons of rice in early July at a purchase price of less than VND10,000 per kilogram, said a manager of a company based in the Mekong Delta province of Tien Giang.

This foresight resulted in a profit of VND500 per kilogram on exports last week.
The sudden rise of rice prices in Thailand in early July pushed up export prices, which steered importers to buy Vietnamese rice at prices lower than in Thailand.
Vietnamese exporters have taken advantage of an opportune situation. They managed to stock rice products to meet a huge demand of 1.9 million tons from July to September.
This very demand propelled the price of domestic rice to reach VND1,500 per kilogram.

However, if the price of Thailand rice continues to soar, both the domestic suppliers and export companies will earn huge profits on the margin of difference in rates.