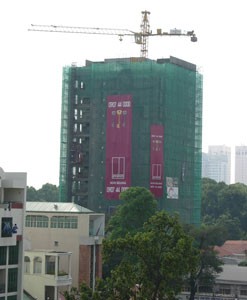 In the first 4 months of 2006, Viet Nam attracted hundreds of invesment projects. (Photo: T.C)
According to the Regional Bureau for Asia and the Pacific (RBAP), Thailand will boost investment in Viet Nam. Thailand companies and investors should take investing advantages in such a fast growing economy like Viet Nam as its better to see Viet Nam as a good business partner rather than a direct competitor, said business analysts from the Thai government.
Viet Nam's economy grew 7.5% this year, slightly down from the 8.5% growth rate last year, mainly because of the increase in equipment and material investment needed to meet the manufacturing demands for export.
In the first four months of the year, Viet Nam attracted 180 Thai investment projects valued at roughly THB1.88 billion (about US$50.85 million).
According to Mr. Suriya Jungrunggreangkit, Thai's minister of industry, the majority of investment in Viet Nam focuses on labor-heavy industries because of Viet Nam's low-wage labor costs, similar to those of Thailand when the country began the industrialization in the 1970s and 80s.
Some of Thailand's industries that depend on labor, such as garment and textile, might have to relocate to Viet Nam in order to maintain cost competitiveness. Viet Nam might be a manufacturing place for Thai consumer goods, while Thai tourism and real estate could also make it big across the border.
Although Viet Nam has ambitions to become a heaven for high-tech industries, it may take Viet Nam at least 10 years to achieve this, Mr. Suriya added.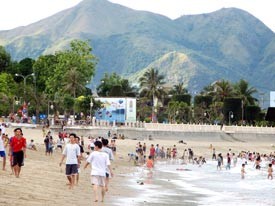 Viet Nam's tourism need to learn from Thailand's experience. (Photo: T.C)
Viet Nam has more attractive policies than Thailand but that doesn't mean Viet Nam gets the advantage. The lack of infrastructure development, logistics and Business Law set Viet Nam behind.
Up to now, Thai companies mainly invest in agricultural product processing, castle feeds, chemicals, and printing. In reality, Viet Nam should boost collaboration in fields that Thailand is experienced such as tourism, logistics, and other industries.
Attractiveness of Viet Nam to Thai companies includes workforce, which are young (60% of the population are under 30), industrious, passionate, of high quality and low cost. Viet Nam has attractive incentives on taxes and financial support for infrastructure development as well. The political stability in Viet Nam also helps to build trust in Thailand's investors.
Related Articles:
Unprecedented Foreign Investment to Pour into Viet Nam
Viet Nam Could Become Thailand's Major Competitor
New Rules for Foreign Rep Offices, Branches
New Laws on Investment, Business Operation Take Effect