About 75 percent of Viet Nam's exports were delivered to other markets by air because services and facilities at the country's ports are poor.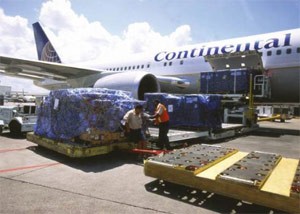 About 75 percent of Viet Nam's exports are sent by air
Garments and textiles accounted for 39 percent of the countries exports, footwear, 25 percent and fine arts and handicraft account for 10 percent.
Viet Nam's logistics are comparable to those of other countries in the Association of Southeast Asian Nations (Asean), foreign experts said. Logistical support in Thailand, Malaysia and Singapore is significantly better than in Viet Nam.
The country's ports, airports, railways and roads are equal or slightly better than those in the Philippines and Indonesia.
Viet Nam has 114 seaports, including 14 large-scale ones.