Thousands of boxes of expired sweets were found by the Ho Chi Minh City Market Management Department (MMD) at warehouses owned  the Binh Tay Liquor and the Binh Tay Liquor Packing joint-stock companies (JSCs) in District 6 yesterday.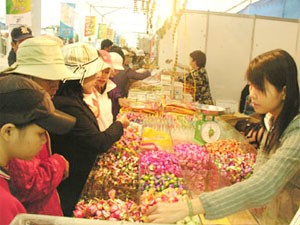 Consumers purchase confections for Lunar New Year holidays

 

Market Management Teams checked 40 out of 67 warehouses at the Binh Tay Liquor and Binh Tay Liquor Packing JSCs at 621 Pham Van Chi  Street, Ward 7, District 6, and found out over 2,000 six-to-seven-kilo boxes of expired biscuits, cookies and candies, without invoices, though vouchers found among them indicated a manufacture dates as far back as 2000.
The said confections were reportedly smuggled in from China.
The HCMC MMD seized the confections and further checks are to be carried out on 27 other warehouses today.
The Binh Tay Liquor and Binh Tay Liquor Packing JSCs' premises occupy dozens of hectares and include many large warehouses hired out to store goods.
The Market Management Department will work with owners of the goods for further investigations.