A recent inspection carried out by the HCMC Electricity Company regarding the consumption of power by illuminated billboards in Ho Chi Minh City revealed that 107 of the 129 boards did not comply with the Government's policies on power savings. Specifically, the boards were still lit up 11 p.m. and a request for a 50% reduction in number of light bulbs used was ignored.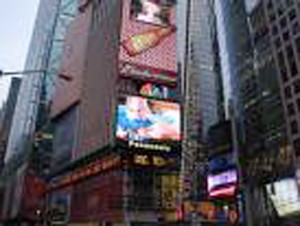 50% of bulbs on illuminated billboards are requested to be disconnected and billboards will only allowed to be lit up between 6 p.m. and 11 p.m

The Sai Gon Giai Phong, in a recent interview with Mr. Nguyen Van Khanh, Manager of the Information Management Section of the Ho Chi Minh City Department of Culture and Information, offered his opinions regarding the violations and about tough measures to be taken against future non-compliance.

Mr. Khanh said that the Department hasn't actually received any information about the inspection yet. While awaiting an official report from the HCMC Electricity Company in order to issue effective sanctions, the Department will strictly carry out the People's Committee directives regarding power saving measures in the city.

Specifically, each district's Office of Culture and Information has been requested to urge companies that have billboards within its area to disconnect 50% of the light bulbs on each board and inform them that the boards are only to be lit up between 6 p.m. and 11 p.m.

Mr. Khanh also said that the Department of Culture and Information has met with more than 50 advertising companies to make them aware of the power saving policies and remind them to comply with the rules.

Reports from the Offices of Culture and Information in some districts stated that many billboards in those areas have been redesigned to meet power-saving standards, however apart from the full compliance of some advertising companies, deliberate violations from others still remain, said Mr. Khanh.

When asked when the Department will publicize the names of companies that have not yet implemented the power- saving measures, Mr. Khanh replied that it will cooperate with the Ho Chi Minh City Electricity Company to inspect all the city's billboards in order to come up with accurate data on the matter.

As for tough measures to be taken against violators, Mr. Khanh said that the Department is calling on advertising companies to abide by the regulations and will send official reminders to offenders. The withdrawal of advertising licenses will be used as a final penalty for companies that continue to violate the rules.