Le Chi Binh, deputy chairman of the An Giang Fisheries Association has advised all tra fish breeders not to make any distress sales of their fish as the recent price drop is only temporary.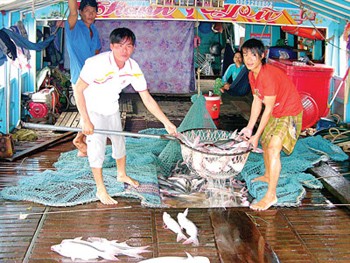 Farmers harvesting tra fish in the Mekong Delta (Photo: SGGP)
Since the beginning of the year, tra fish prices have continued to rise. However, the situation has suddenly reversed, putting several breeders in the Mekong Delta in an insolvency state.
According to Binh, tra fish export prices since the beginning of the year have remained higher than during the same period last year.
He added that the demand for tra fillet in the world was stable and the present drop in price was temporary. He advised local authorities to inform breeders to feel secure and not hurry to offload fish in the market at low rates.
Tra fish breeders have been depressed with the price drop. Vo Van Em from Thot Not District of Can Tho City said that several breeders made good profits of late and he had even taken a loan of VND2.5 billion (US$119,000) for breeding 100 tons of tra fish. Now with the harvest nearing and prices dropping he worries how he will pay back.
According to the agriculture industry in the delta, the feed price has increased to nearly VND12, 000 and other input costs have also gone up. This has pushed the production cost of a kilogram of tra fish to VND25, 000 a kilogram.
At VND24, 000-25,000 a kilogram, the breeders will only break even.
Seafood processing plants believe that tra fish prices have been affected by the 'psychological factor'. At the end of April, when the prices soared, several breeders refused to sell their fish thinking the prices would hike further. However, one month later the prices began falling which caused a rush to sell. The more fish they sell, the lower the price falls.