The trade deficit reached US$300 million in March, according to the General Statistics Office.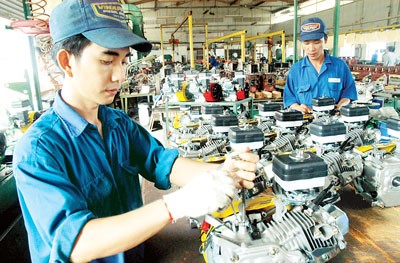 (Photo: SGGP)
Export turnover is estimated at US$12 million, an increase of 26 percent since last month and import turnover reached US$ 12.3 billion, an increase of 22 percent since last month.
Garment exports increased 53 percent at US$1.6 billion, cell phone increased 16 percent reaching US$2 billion, and electronic items increased 37 percent reaching US$850 million.
The increase in import turnover is due to import of components and accessories for production of machines and electronic products.
Export turnover is estimated to reach US$ 33.35 billion and import turnover US$ 32.34 billion by the first quarter this year. This results in US$ 1 billion trade surplus, accounting for 1.53 percent of total export import turnover.
Domestic businesses will see trade deficit of nearly US$ 3 billion while foreign investment sector has trade surplus of nearly US$ 4 billion in the first quarter.