Vietnam enjoyed a trade surplus of US$2.87 billion during the first eight months this year, according to the Generation Department of Customs.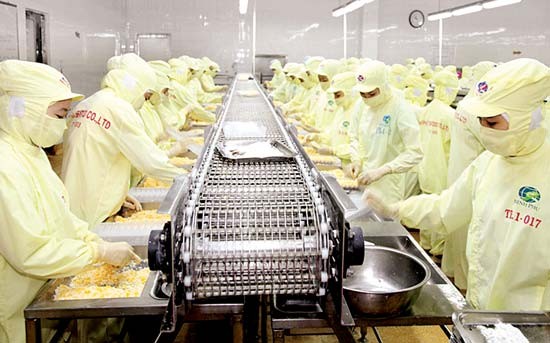 A seafood processing plant in the Mekong Delta (Photo: SGGP)
The number is higher than the estimated number of $2.54 billion by the General Statistics Office of Vietnam.
Foreign direct investment (FDI) sector brought the export turnover of nearly $79 billion, up 9.3 percent over the same period last year. Import turnover neared $65 billion, up 0.1 percent.
FDI firms created a trade surplus of $14 billion while domestic sector posted a trade deficit of $11.1 billion.
Export import turnover neared $113.2 billion, up 6.4 percent over the same period last year. Of these, imports neared $110.34 billion, a year on year increase of 0.3 percent.
Therefore, experts forecast that export growth might not meet the target of 10 percent, equivalent to $181.5 billion, as per plan.
During the first eight months, four localities obtained the export value of from US$10 billion and higher.
Of them, HCMC took the lead with $20.1 billion, followed by the northern province of Bac Ninh with $14.73 billion, the northern mountainous province of Thai Nguyen $12.35 billion and the southern province of Binh Duong $12.1 billion. Binh Duong saw a year on year decrease.
These localities' export turnover totaled $59.29 billion accounting for 52.4 percent of the country's number.