Two-way trade through Mong Cai international border gate in Viet Nam's northern Quang Ninh province bordering China is estimated to amount to US$2.4 billion this year.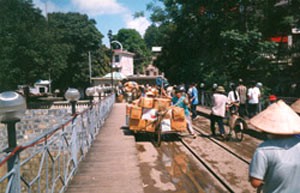 Transporting commodities to China through Mong Cai border gate
This record marks an increase of 16 percent against last year.
Viet Nam mainly exports rubber, farm products, seafood, coal and cosmetics, while importing urea, equipment, consumer goods, agricultural machines, and automobile and motorbike parts via the border gate.
The border gate's Vietnamese management board has recently established a sub-border gate to facilitate export of local seafood.
Some 40 Chinese companies and traders are importing 80-100 tons of seafood products via the sub-border gate each day.
Trade between China and Viet Nam grew to over US$9.95 billion in 2006 from US$8.2 billion in 2005. The figure is expected to reach US$13-14 billion this year, predicted Vietnamese trade experts.
Viet Nam and China plan to realize the target of US$15 billion in two-way trade by 2010.