Vietnam's tuna exports to the Netherlands hit nearly 8.9 million USD in the first four months of this year, representing a year-on-year surge of 123 percent, in spite of an overall decrease in the European Union.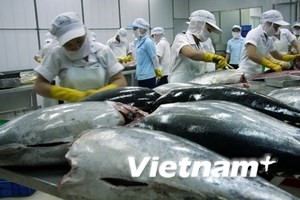 Illustrative image (Source: VNA)
Therefore, the Netherlands exceeded Spain to become the third largest importer of Vietnamese tuna in the bloc.
The General Department of Vietnam Customs attributed the surge to an impressive rise of as high as 396 percent in the export of tuna fillet in the context of dropping shipment of other tuna products.
Statistics from the Netherland-based International Trade Centre showed that over the past five years, the European country recorded an increase of 143 percent in tuna imports, becoming the world's 11 th biggest importer of this product.
Vietnam now ranks ninth among the nations selling tuna to the Netherlands.